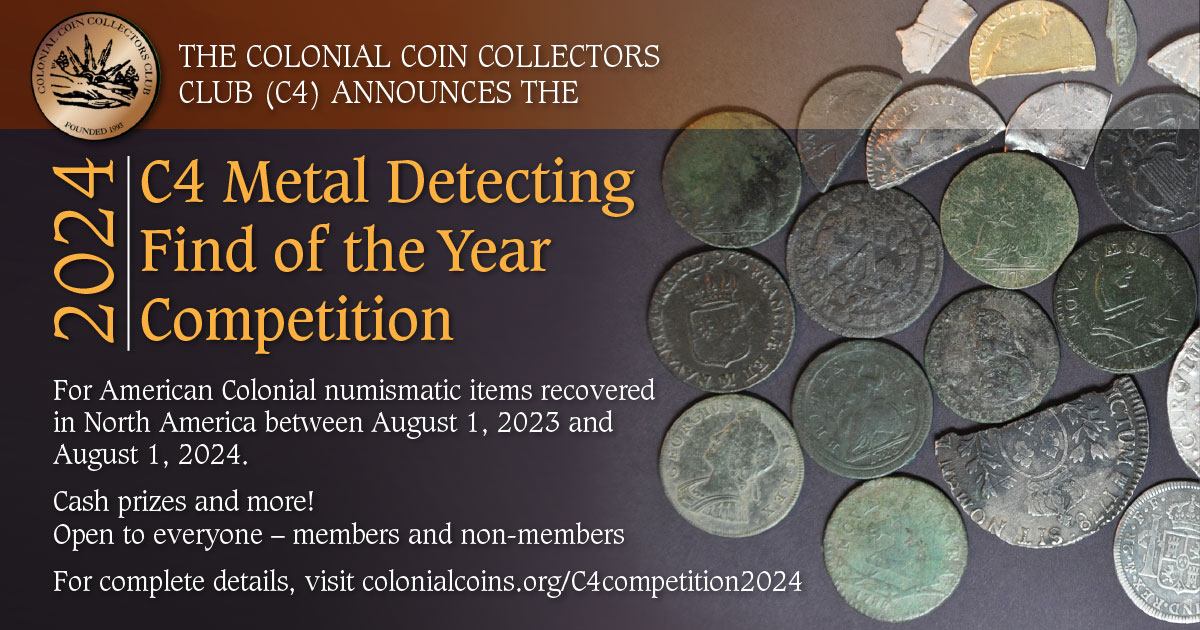 Announcing the C4 Metal Detecting Find of the Year Competition!
The Colonial Coin Collectors Club (C4) invites metal detectorists to submit images of American colonial numismatic items unearthed between August 1, 2022 and August 1, 2023. The images of the find and any related background pertaining to the discovery will be used by the C4 Metal Detecting Committee to determine the winners of this competition. All factors about the find will be taken into consideration, such as: rarity, historical importance, condition, and your story behind the find.
This competition is open to members and non-members of C4. The Colonial Coin Collectors Club encourages current members and non-member participants to watch our website because we are planning other exciting projects to reach out to the metal detecting community.We will be offering a free service to help attribute metal detecting coin finds. Our quarterly newsletter now includes a column "Metal DetectingCorner" by Matt Virga, and is mailed free to all our members. Come join our club where you can learn more about the history of your colonial coin detecting finds!
RULES, REGULATIONS, INFORMATION & PICTURE SUBMISSION:
The contest is open to everyone, C4 members and non-members as well.
Only North American found colonial numismatic items acceptable.
Competition timeline from August 1, 2023 to August 1, 2024.
All entries must include the category for the submission, as well as photos of the
obverse/front and reverse/back along with the date, county, and state recovered.
Please send submissions to each of these two email
addresses: Region1VP@colonialcoins.org and Region7VP@colonialcoins.org
There is no limit on the number of submissions to the 2023/2024 competition.
Preference will be made to entrants who also produce a photo or video of their
find in situ.
If the item is cleaned, a pre-and post-cleaning photo is recommended.
The winning finds will be determined solely within the discretion of the C4 metal
detecting committee.
The committee will meet and determine the winners in time for it to be
announced at our Fall 2024 C4 convention in Baltimore. Winners do not need to
be present to win.
First Prize, Best Colonial Gold, or Silver Coin: $150.00
First Prize, Best Colonial Copper Coin: $150.00
First Prize, Best Colonial Numismatic Relic Find: $150.00
Second Prize, Colonial Gold or Silver Coin: $75.00
Second Prize, Colonial Copper Coin: $75.00
Second Prize, Colonial Numismatic Relic Find: $75.00
Third Prize in each category will receive Will Nipper's In Yankee Doodle's
Pocket: The Myth Magic & Politics Of Money In Early America, a C4 Hardcover
Book Publication.
All images and information submitted become the property of C4 and may be
used by C4 for publicity or research purposes.