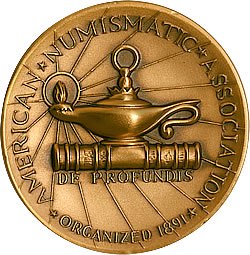 The American Numismatic Association
The American Numismatic Association is a nonprofit organization dedicated to educating and encouraging people to study and collect coins and related items. The Association serves the academic community, collectors, and the general public with an interest in numismatics. The ANA helps all people discover and explore the world of money through its vast array of educational programs including its museum, library, publications, conventions, and seminars. Learn more about the ANA.
The American Numismatic Society
The American Numismatic Society is dedicated to the study and public appreciation of coins, currencies, medals, and other related objects. Since its founding in 1858, the ANS has assembled a permanent collection with over 800,000 objects dating from 2000 BCE to the present and numismatic library, which houses approximately 100,000 books, documents, and artifacts. These resources are used to support publications of books and periodicals, lectures, academic seminars, and exhibitions. Learn more about the ANS.
The Early American Coppers Club
The Early American Coppers Club (known throughout numismatics as "EAC") has about 1200 members. Broadly speaking, the hobby involves the acquisition, study, discussion, and promotion of early copper coins: large cents and half cents coined by the US mint from 1793 through 1857, and the various emissions authorized by the colonial and state governments. In 1981, EAC voted to expand its scope to include Hard Times Tokens. Learn more about EAC.