The passing of Alan on July 23-2020 was a blow for all of us. We have lost a friend and a colleague who was knowledgeable in many areas of colonial numismatics and willing to openly share that knowledge with anyone willing to talk. He has been described as a reserved "good ole boy," whose gravelly voice, when he spoke, was distinctive. Because he was reticent in talking about himself, many of us know little about his background. His wife – Kathy – helped to fill in some of the details:
Alan graduated high school in 1969, was drafted into the Army Infantry, and wound up doing a year in Vietnam. His eyesight was so good, he was quickly trained as a sniper. He was lucky to survive and was shot only once. Feeling bullet proof upon his return home, he raced cars and motorcycles at Summit Point and Road Atlanta and finally settled into a job as an auto mechanic after turning down training for Air Traffic Control. Working in many shops, he achieved a master mechanic rating in 7 out of 8 ASE certifications. After a time, he was promoted to General Manager of Herndon Automotive. He worked 12 hour days 6 days a week for many years. Through it all was always his love of coins.
Alan's interest in all types of colonial coins was impressive, but his greatest love was Virginia halfpence. One should not be surprised that he placed Virginia halfpence above all other series based on his choice of an email address – vacoinage@aol.com. Along with Richard Picker, Jim Spilman and Eric Newman, Alan was one of a handful of pioneers collecting and researching Virginia halfpence. His research got a boost at the 2001 C4 convention in Boston, when he met Eric Newman and later established active communication with him. This communication increased when Jim Spilman developed the Colonial Newsletter Foundation yahoo based e-groups, one of which was for Virginia halfpence. Eric and Alan were two of the first to join the group. A number of their email exchanges, as well as private communications, are available on the Newman Numismatic Portal. I had a laugh-out-loud moment when I read a private email from Alan to Eric on April 4, 2004 referring to me that said, "I am in the process of trying to clarify Roger's CNL paper. … a good dose of Roger's enthusiasm is not a bad thing for me to catch. Perhaps I can infect him with some patience and perseverance." He was not successful on patience, but he did make our paper better!!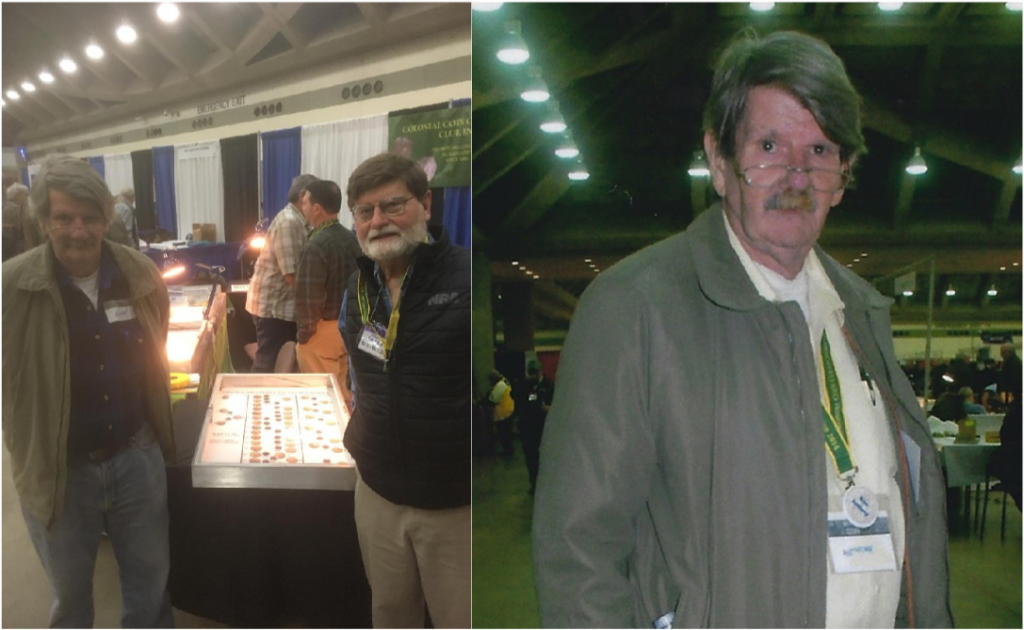 November 2004 was a tough time for Alan since his wife became very ill. Thankfully she recovered but he had to miss the C4 convention that year. However, his sorrow in missing the convention was easily forgotten in 2005 when he made the discovery of a new Virginia variety – the 15-W. I remember how he let me know about this new find. He sent me an email with images of the coin without saying anything about it. When I attributed it for what it was, he finally revealed his real excitement which he had hidden until then. We wrote up his discovery in the December 2005 issue of The Colonial Newsletter.
I am Alan Anthony aka vacoinage on ebay Male 55 year old I have been a coin collector since I was a child; Lincoln cents, Indians, Large cents, Red Book Type. That is where it all went wrong I decided around the late 70 s that I probably needed to get some of those Colonial Thingees in the front of the Red Book for my type set. My first colonial was a Miller 1787 33 Z CT that I got at a local auction for $35, I still have it and could not sell it for $35 today. It got me started though. My few for type has turned into boxes full and I have lost all interest in all other coins. Hell, my colonial library is probably worth more than my federal coin collection. I research and collect Virginia Halfpence, collect Red Book colonials by type (most by die variety) and I love Fugios.
Though very reserved and quiet in demeanor, Alan was an active participant in co-authoring papers, and providing exhibits at C4 Conventions. At the 2014 convention, his exhibit was, "Odd and Curious Colonials." At the 2019 C4 Convention, he helped me complete the "Virginia Halfpence" exhibit by supplying two coins needed to have all known varieties together at one time and one place for the first time in history. A photo of us at the exhibit is provided below. The passing of Alan at this time in his life is especially tragic since just a little over a year ago he retired. With retirement, he had more time for travel with his loving wife, Kathy, as well as numismatics. Having spoken to Alan just last week, neither he nor his wife expected things to change so quickly. I feel a personal loss in his passing and will miss having a partner for discussing new discoveries surrounding the Virginia halfpence.
His wife has requested that at our next C4 gathering that we lift a glass in his memory, since he considered all of you to be his best friends. We will miss you, my friend!